The 91st annual Calhoun County Fair is set for July 21-26.
The Fair will open Monday, July 21 with the annual Fairest of the Fair pageant at 6:30 p.m. Entry fees are $15 for beauty, $10 for photogenic.
Youth Speed events will take place on Tuesday, July 22 in the rodeo arena.
Wednesday, July 23 will be highlighted by the annual goat show at 1:30 p.m. and a new event this year – a shooting demonstration from a cowboy on horseback.
Gate admission will be $1 on Wednesday, July 23 and carnival armbands will only be $13. Armbands will be $16 on Tuesday, July 22 and $20 Thursday-Saturday, July 24-26.
Gate fees will be $3 Monday, Tuesday and Thursday and $6 Friday and Saturday. For frequent Fair visitors, you can purchase a $15 pass that will serve as your gate admission all week – a $13 savings if you come every day.
Mississippi Delta Shows will again be providing the carnival rides.
Thursday, July 24 events will include a 4-H crock pot supper, biscuit making contest, the annual pet show, a pony pull and the return of the pig scramble.
Friday, July 25 will be the opening night of the rodeo featuring cowboys from all over the country competing. The rodeo will begin at 7:30 p.m. Friday and Saturday.
Saturday's events will include a Round Robin Roping at 9 a.m. and a Big Buck Contest in the multi purpose building. Any mounted buck can be entered. Scoring will be done by MDWFP officials.
Calhoun County Fair
 Schedule of Events
Monday, July 21
6:30 p.m. Fairest of the Fair beauty pageant
Tuesday, July 22
4-7 p.m. Registration of exhibits (except baking)
6 p.m. Carnival opens
7:30 p.m. Youth Speed Events
Wednesday, July 23
8 a.m. – 7 p.m. Registration of exhibits (except baking); registration of ugly lamps
1:30 p.m. Goat Show
6 p.m. Cowboy mounted shooting demonstration
Thursday, July 24
9 a.m. Poultry Show
5-9 p.m. Exhibit building open
5-7 p.m. 4-H crock pot supper
5 p.m. Biscuit making
6 p.m. Pet Show
7 p.m. Pony Pull
7:30 p.m. Pig Scramble
Friday, July 25
1-9 p.m. Exhibit building open
5 p.m. Biscuit making
7:30 p.m. Rodeo
Saturday, July 26
9 a.m. Round Robin Roping
9 a.m. – 1 p.m. Big Buck Registration
10:30 a.m. Youth Cook-Off
11 a.m.- 12 p.m. Registration of Baking/Candy contest
1-5 p.m. Exhibit building open
7:30 p.m. Rodeo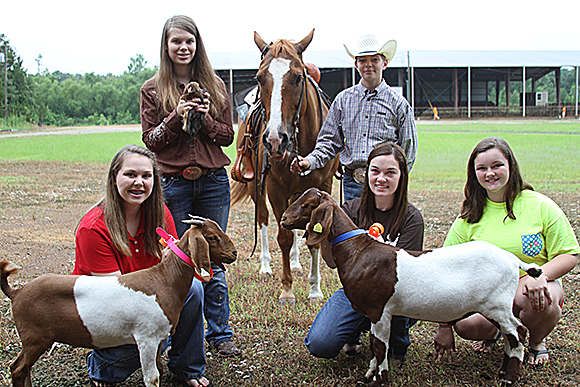 The Calhoun County Fair opens next week and local 4-Hers are preparing their livestock for the competition. This year's Fair includes a rodeo, goat show and poultry competitions. From left, front, are C.J. Weddle, Alyssa Alford, Ellen Harrell; back, Madison Henry and Austin Bullard. Photo by Joel McNeece