The 40th Annual Vardaman Sweet Potato Festival kicks off this Saturday with the arts and crafts festival on Main Street.
In addition to the many arts and crafts, there will be a 5K run/walk, judging of various contests including sweet potato creatures, a sweet potato tasting booth, pie eating contests, a domino tournament, and the fire department's "famous barbeque chicken dinner."
Live entertainment will go on throughout the day including Kay Bain of WTVA's Morning Show at 11:30 a.m.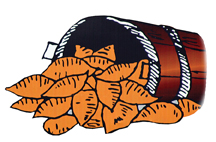 The information booth will be set up offering a wide variety of products including sweet potato t-shirts, caps and cookbooks. The popular Antique Tractor Show will be setup at BancorpSouth.
The 5K Run/Walk begins at 8 a.m. on Main Street with registration at 7 a.m.
One of the most popular attractions at the festival each year is the Sweet Potato Tasting Booth where you can sample ten delicious sweet potato foods prepared and donated by sweet potato farm families. This booth opens at 10 a.m.
Contest judging begins at 11 a.m. Contests include Washed/Waxed Bushels of Vardaman Sweet Potatoes, Sweet Potato Creatures, artwork, photography, and writing. (Writing entries have already been submitted.)
The messy, but always entertaining Sweet Potato Pie Eating Contest will begin at 11 a.m. with cash prizes for first place in each division.  The contest will be located in front of the main stage by Veteran's Park.
The Vardaman Fire Department's "Famous Barbecued Chicken Dinner" will be available at 11 a.m. at the Fire Station.  All proceeds will go toward the Vardaman Summer League Baseball/Softball Program.
The Sweet Potato King and Queen Pageants will go on throughout next week beginning Sunday, Nov. 3 at 2 p.m. for 0-23 months. Two-years-old to kindergarten will be Monday, Nov. 4 at 7 p.m.
First grade through sixth grade will be Tuesday, Nov. 5 at 7 p.m. Seventh through 12th grade will take the stage Thursday, Nov. 7 at 7 p.m.
The Original Sweet Potato Recipe Contest will be Saturday, Nov. 10. at 1 p.m. All entries must be turned in to the VHS cafeteria before 1 p.m.
The festival banquet will conclude the week's festivities that Saturday night beginning at 6:30 p.m.
Banquet tickets are $15 in advance or $20 at the door.
For more information on the festival call 662-682-7559 or visit the festival website at vardamansweetpotatofestival.org.
Festival Calendar
Saturday, Nov. 2
8 a.m. 5K Run/Walk
9 a.m. Domino tournament in Sweet Potato Fest building
10 a.m. Sweet Potato Tasting Booth, Antique Tractor Show at BancorpSouth parking lot
11 a.m. Sweet Potato Pie Eating contest, VFD's BBQ chicken dinner, sweet potato judging
11:30 a.m. Kay Bain performs
Sunday, Nov. 3
2 p.m. Pageant 0-23 months
Monday, Nov. 4
7 p.m. Pageant 2-5 years
Tuesday, Nov. 5
7 p.m. Pageant 1st-6th grade
Thursday, Nov. 7
7 p.m. Pageant 7th-12th grade
Saturday, Nov. 9
1 p.m. Original Sweet Potato Recipe Contest at VHS Cafeteria
6:30 p.m. Festival Banquet
For more information call 662-682-7559.