The 23rd Annual Bruce Sawmill Festival will be held this week, highlighted by the return of The Bouffants with a free concert Friday night on the square.
The three-day festival will begin Thursday night with the annual Aqua  King and Queen pageant, hosted by the 20th Century Club. This year's pageant will take place in the Bruce Theater with registration beginning at 6 p.m. and the pageant at 7 p.m.
Arts and Crafts vendors will begin setting up on the square throughout the day Friday with opening ceremonies planned for 6 p.m. featuring Mayor Rudy Pope and Sawmill Festival Queen Elizabeth Whitten.
The Bouffants will begin playing in the gazebo at 7 p.m.  with their unique brand of 50s, 60s and 70s music.
The Bruce Fine Arts Club will be offering their homemade ice cream Friday night and Saturday and the hospitality tent will have a wide selection of Sawmill Festival hats and t-shirts available.
Chainsaw artist Glenn Smith, of Derma, will also be set up on the northeast corner of the square conducting demonstrations both Friday and Saturday.
The Bruce Rotary Club will be selling chances for a "Golden Boy" Rifle to be raffled off at noon on Saturday.
The 5K run, 2K walk and kids' fun run will all be held Saturday, July 12 at 8 a.m. Those wanting to contribute, but not run, can be a "ghost runner" by submitting an entry fee and receiving a t-shirt. Contact the Bruce Chamber of Commerce office at 983-2222 for more information.
The golf tournament is Saturday morning at 9 a.m. at Yoda Creek Golf Club. For more info on the tournament call Yoda Creek at 662-983-9632.
Saturday highlights include the classic car show, live entertainment from the gazebo, including "Calhoun County Youth," Lyrix, Annie Kate Vanlandingham, Michael Locke, Janae Winter, The Ellis Family, Tanner Mills and Ashley Tutor.
The Bruce Museum will again host the local art show coordinated by Bethany LaValley. Any local artist in the county interested in displaying their work, whether paintings, pottery, crafts or anything else, is encouraged to participate. There is no cost for displaying your artwork.
For more information on the art show contact Bethany LaValley at 662-414-5914.
"We have a great selection of vendors this year, both arts and crafts and food," Chamber Secretary Carol Shoemaker said.
The festival is a fundraiser for the civic clubs of Bruce –  Chamber of Commerce, Rotary, Lions Club, Masons, 20th Century Club, Fine Arts, and Grace Club. For more information on the festival call the Bruce Chamber of Commerce at 983-2222.
Bruce Sawmill Festival
2014 Schedule of Events
Thursday, July 10
7 p.m. Aqua King and Queen Pageant – Registration at 6 p.m.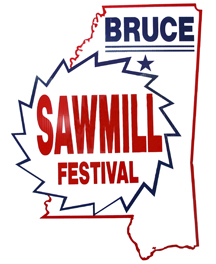 Friday, July 11
On the Square
6 p.m. Prayer by Daniel Hathorne, National Anthem by Satrina Massey, Welcome by Rudy Pope and 2014 Sawmill Festival Queen Elizabeth Whitten.
6:15 p.m. Danny Paul Griffin
7 p.m. The Bouffants – 50's, 60's, 70's music.
Saturday, July 12
8 a.m.  5K/2K "Run for History" begins – Registration opens at 7 a.m.
9 a.m. Sawmill Festival Golf Tournament at Yoda Creek Golf Club, Show and Shine Car Show north of Square, Bruce Museum open all day with Art exhibits, come in and cool off.
9 a.m.  Opening Ceremonies on the square – Prayer by Bro. Lannis May, National Anthem by Janae Winter, Welcome by Mayor Rudy Pope and Sawmill Queen Elizabeth Whitten.
10 a.m. Lyrix
11 a.m. Annie Kate Vanlandingham
12 p.m. Michael Locke
1 p.m. Calhoun County Youth
2 p.m. Janae Winter
3p.m. The Ellis Family
4 p.m. Tanner Mills
5 p.m. Ashley Tutor