Archives for December 2017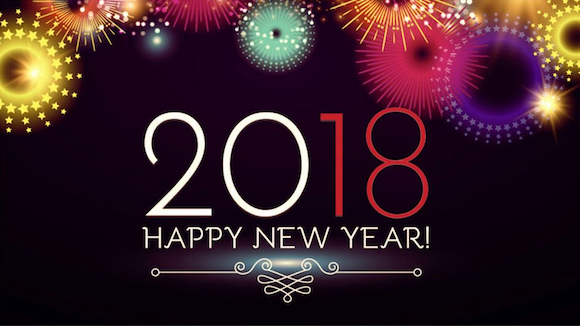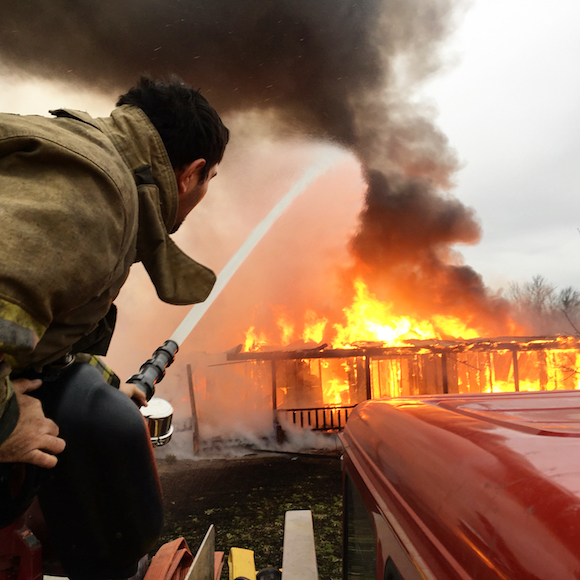 Bruce fireman Manuel Mata targets the water gun atop a Chickenbone fire truck toward the burning home of the Brent Sullivan family Sunday morning. All escaped the fire without injury. The home, located on Hwy. 341 just south of Hwy. 32, was a total loss. Photo by Joel McNeece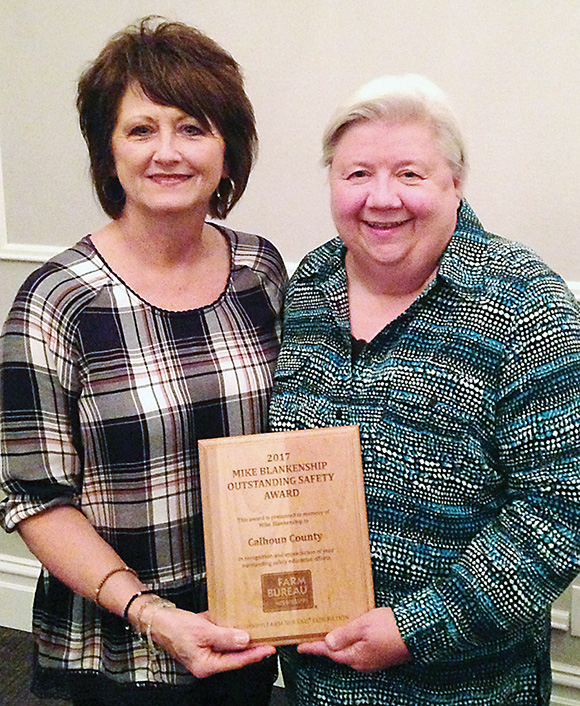 Calhoun Farm Bureau, represented by Rita Leachman of Bruce and Sylvia Clark of Vardaman, accepted two awards at the recent Mississippi Farm Bureau meeting in Jackson. They received the American Farm Bureau Federation's award for achieving Membership Quota in 2017 and promoted serving members and the mission of the Farm Bureau at the county, state and national level. They also received the Mike Blankenship Outstanding Safety Award for their safety education efforts.
Anita Diane Bailey, 67, passed away peacefully at North Mississippi Medical Center in Tupelo on Wednesday, Dec. 27, 2017. Born April 6, 1950 in Big Creek, she was the daughter of Troy Lee and Beulah Mae Lollar Bush. [Read more...]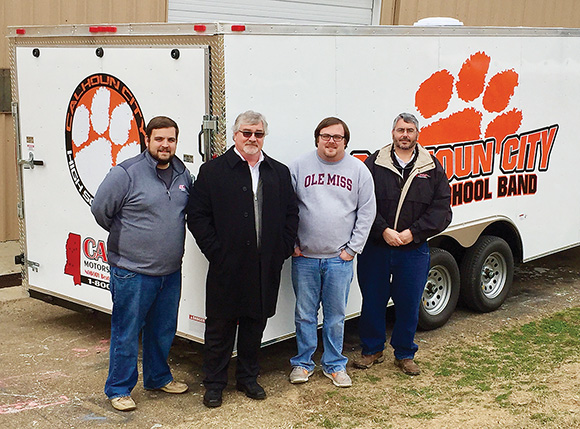 The Calhoun City High School Band was recently presented with a new trailer courtesy Cannon Motors. Pictured with the new trailer, from left, are Asst. Band Director Drew Smiley, David Hill of Cannon, Band Director Dustin Thrasher, and Johnny Kakales of Cannon.
Bobbie Allen Crum, 87, passed away Tuesday, Dec. 26, 2017 at her son's home in Grenada surrounded, by her loved ones. She was formerly of Vardaman before her health failed and she moved to Grenada. [Read more...]
Shirley T. Pomerlee, 75, of Coffeeville, died December 25, 2017 at UMMC-Grenada. [Read more...]
Betty Lane Ross, 87, of Water Valley, died November 30, 2017 at Yalobusha Nursing Home. [Read more...]
We're approximately half way through our effort to feature every church and its pastor in Calhoun County. We interviewed 49 pastors in 2017 and pulled just a few of our favorite quotes from many of those stories as we reflect back on 2017.
[Read more...]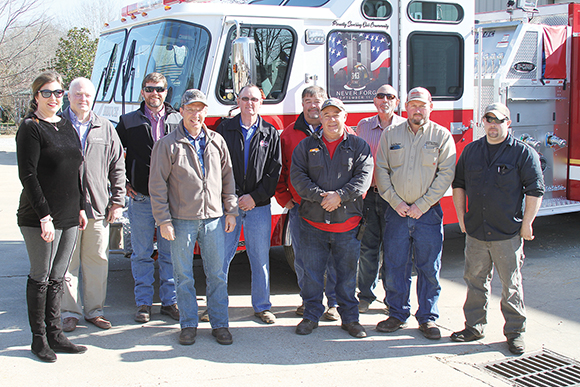 The city of Bruce will be able to pay off its new fire truck more easily thanks to a $150,000 grant from Weyerhaeuser. Officials from the Bruce sawmill met with Bruce firemen and town officials last week at the fire station to tour the new truck. Pictured, from left, are Alderwoman Ellen Shaw, Mayor Rudy Pope, Weyerhaeuser Plant Manager Benjy Herrin, Weyerhaeuser Materials Manager Rick Cozine, Alderman Jimmy Hubbard, County Fire Coordinator and Bruce fireman Chris Williams, Fire Chief Charlie Hill, Alderman Steve Nelson, Asst. Fire Chief B.J. Farmer, fireman Dut Swords. Photo by Joel McNeece