Archives for July 2015
Calhoun County kids earned success during the Meat Goat Show held last week at the Calhoun County Fair.
"Hello, my name is Jimmy W. Clemons. I am seeking the office of Chancery Clerk of Calhoun County. I was born in Vardaman, and raised in the Pleasant Hill and Slate Springs community. I am married to Tonia Clark Clemons, for 26 years. We have four children and two grandsons. Haley Parker Caviness, who is married to Kris Caviness and two precious grandsons, Henry and Holt. Paul a third year medical student at University Medical Center. Cheslin Clemons Astorino who is married to Matt Astorino and living in the great state of Alaska. Josh an eleventh grader at Calhoun City High School.
[Read more...]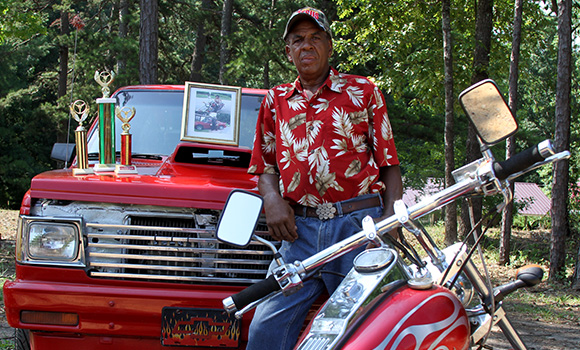 Walter Armstrong, of Pittsboro, has loved cars all his life. He has a talent for taking one man's perceived junk and restoring it to a desired automobile. One of those projects earned him first place in the Thunder on Water car show last year. Read the related story in the features section. Photo by Joel McNeece
Tammy Jackson moved to Schoona Bottom, located in the far eastern section of Calhoun County, in 1995. It was a place she had visited all her life on holidays and in the summers.
Walter Armstrong's upbringing taught him to appreciate things.
[Read more...]
The temperatures suggest we're in the peak of summer, but the activity around football locker rooms in Bruce, Calhoun City and Vardaman is focused solely on the fall.
[Read more...]
A biscuit-making demonstration is an annual event at the Calhoun County Fair. Happy Homemakers' Club members Linda Doler, Martha Cannon, Missy Bryant and Sandra Lee were among those involved in the Thursday event. Cannon also made chocolate gravy and Lee made homemade butter to go with the biscuits.  Photo by Celia Hillhouse
Mississippi's sales tax holiday takes place this Friday and Saturday, July 31 and August 1, just in time for back to school shopping.
[Read more...]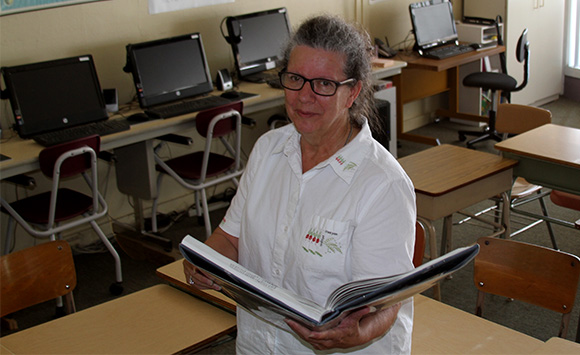 Barbara Marsh is the new director of Excel in Calhoun City. A native of Memphis, Marsh said she hopes to help the after-school tutoring program grow and expand its offerings to adult classes. Read the related story in the news section. Photo by Joel McNeece
Calhoun Countians will head to the polls next Tuesday to decide who advances to the general election in November in a number of races including sheriff, supervisor, and constable.