Archives for June 2015
Bruce Junior High Cheerleaders excelled in competition at camp in Starkville June 19-21.
Laken Shankle of Bruce, Deshawn Tillman of Bruce, and Hunter Harmon of Vardaman are among community college athletes recently honored for academic excellence.
[Read more...]
Midgie Bell Miller Hodge, 77, passed away at her residence on Monday, June 29, 2015.  Born on February 16, 1938, in Monroe County, she was a daughter of the late Will and Midgie Bell Hathcock Miller. She graduated from Smithville High School, Class of 1955.  On August 16, 1974, Midgie married Marcus Hodge of Calhoun City.  Before becoming a homemaker, she had worked in the assembly department with General Electric for 15 years and later in the packaging department for Kellogg in Memphis.  Midgie was a member of Faith Baptist Church.  Her family, especially her grandchildren, was a very significant part of her life.  Having a big heart for animals, she loved her cats and dogs and supported her local Humane Society.  Midgie loved to sew and crochet; talking with people; making quilts; and collecting dolls, and angel and fairy figurines.  She enjoyed listening to Elvis Presley. [Read more...]
Ottis Brazel Crocker, Jr., 79, of Bruce, died Monday, June 29, 2015, at Biloxi Regional Medical Center. Born June 27, 1936 in Houston, MS, he was the son of the late Dr. Ottis Brazel Crocker,  Sr. and  the late Ora Hawkins  Crocker. He graduated from Bruce High School in 1954. He was a graduate of the University of Mississippi where he received his Juris Doctor degree. After graduating from law school he practiced law for over 50 years. He also  served in the U.S. Air Force. He was a member of Bruce First Baptist Church, Bruce Rotary Club and Bruce Chamber of Commerce. He served on the Board of Directors for the Farmers and Merchant Bank and also Renasant Bank. Community-minded, he served as a judge for the City of Bruce and attorney for Calhoun Health Services Hospital and nursing home. He also served as attorney for the Calhoun County Hospital of which his father founded. He was an avid Ole Miss Rebel fan,  attending ball games for over 40 years. [Read more...]
The Bruce Board will consider options on appointing a new city judge at their Tuesday, July 7 meeting, Mayor Rudy Pope said.
Daniel Marion Duke, Jr., 65, died Sunday, June 28, 2015, at Baptist Memorial Hospital in Memphis. Born in Grenada, to the late Daniel Marion and Margaret Sylvania Horton Duke, he was retired from the Mississippi Department of Transportation where he worked in road maintenance. He served in the United States Army during the Vietnam War as a Medic. He was a member of Turkey Creek Baptist Church. He was a fisherman and found great pleasure being outdoors and riding his four wheeler. His dog, Major, was a constant companion to him. [Read more...]
Scottie Marie Howell Warner, 88, of Big Creek died Sunday, June 28, 2015 at Grace Health & Rehab in Grenada.  She was born April 28, 1927 in Chickasaw Co., the daughter of Lorenzo Howell and Daisy Morgan Howell. She was a retired store clerk for Milady Shoppe and Kellwood Outlet. She was a member of Big Creek Methodist Church and  a state officer in woman's club in early 80's. [Read more...]
Cities and counties in Mississippi can now move forward to ban dangerous caffeine products from purchase by persons under the age of 18, Rep. Tommy Reynolds (D-Water Valley) announced today.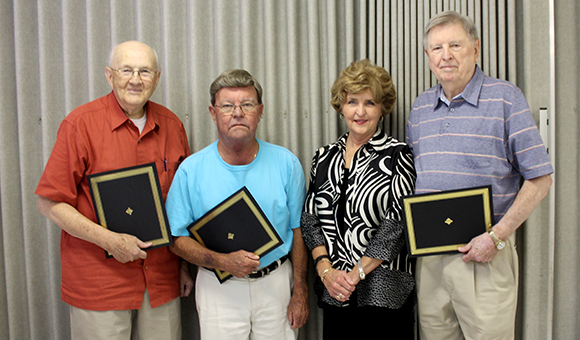 Bruce Rotary Club President Shelia Freely, third from left, presented perfect attendance awards to, from left,  Don Bell, 38 years; Bill Cooper, 32 years; Freely; and Tommy Hallum, 33 years; at last week's annual banquet. Photo by Jo Ann Denley
Charlie Mitchell, Assistant Dean of the Meek School of Journalism and New Media at the University of Mississippi, told Bruce Rotary Club last Wednesday at their banquet that newspapers are not becoming obsolete, despite what many people say.