Archives for December 2012
Calhoun City swept Class 5A Lake Cormorant Friday afternoon at the Holiday Classic in Coldwater.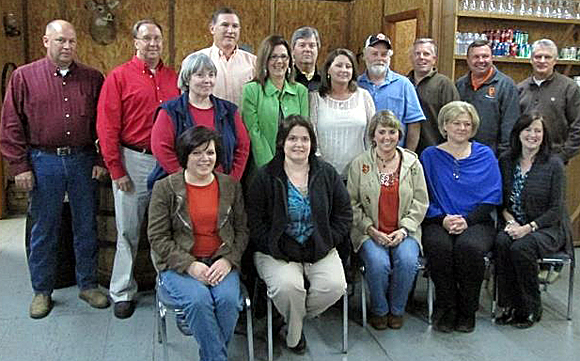 Calhoun City High School Class of 1981 met recently at Paisley's in Big Creek. Classmates attendeing were, front, Vivian Burke Johnson, Amy Howard Harmon, Patema Terry Davis, Tyanne Suber Bailey, Deborah Warner White; back Keith Johnson, Terry Bounds, Carol Bailey Baker, Mike Denley, Annette Chrestman Roidl, David Bevill, Debra Hendrix Arrington, Kelly Hardin, Perry Bailey, Barney Wade, and Tony Kimbrough.
Danny Rodgers of Bruce became the first in the county to qualify for the 2013 municipal elections.
Dolores Jean Earhart, 83, of Pittsboro, died December 26, 2012 at BMH-NM in Oxford. She was born December 29, 1928 in Athens, Ga., the daughter of Carl F. Roach and Nellie M. Broyles Roach. She was a retired sales clerk for K-Mart,  and was a member of Pittsboro Baptist Church.
Henry Wright, 93, passed away Sunday, Dec. 23, 2012, at Floy Dyer Nursing Home in Houston.
Carris Logan Crocker, 96, of Calhoun City, died  December 26, 2012 at Calhoun Health Services. She was born January 6, 1916 in Calhoun County, the daughter of Warren C. Logan and Bessie C. Sartin Logan. She was a retired sewing machine operator for Glenn Slacks, and was a member of Mt. Moriah Baptist Church.
Mary Russell "Gran" Spraberry ,  91, formerly of Bellefontaine, died December 24, 2012 at the home of her son in Duck Hill,.  "Miss Gran" was born March 6, 1921 in Grenada County.  She was a member of Fellowship Baptist Church, Bellefontaine.
Willie Sayles, age 55 died Saturday, December 22, 2012 at Baptist Memorial Hospital in Oxford.  He was born May 18, 1957 at Yalobusha General Hospital in Water Valley, to the late Bennie Sayles and Allie B. Sayles.  Willie was employed by Motts Industries and for the City of Water Valley at the Courthouse and the Jail.  He was a member of Martin Street Church of Christ in Water Valley and loved helping others. He enjoyed cooking Bar-B-Que, dancing, music, and spending time with family and friends.  He loved to have fun and enjoyed life to the fullest.
Claude D. Barton, 96, of Columbia, died Dec. 24, 2012. He was born Aug. 12, 1916 in Derma, to Leo Rupert and Ora Lee (Pyron) Barton and grew up on a small farm. With an agricultural engineering degree he graduated from Mississippi State University in 1939 and entered the Army.
Dwight Barnett of Derma, died December 21, 2012 at his home. He was born October 24, 1956 in Vardaman, the son of Milton and Martha Barnett. He was a carpenter, electrician, member of Thorn Church of God, and served nine years in the National Guard.