Archives for December 2010
By JOEL McNEECE
The National Weather Service is predicting "severe weather" to move into Calhoun County at approximately 4 p.m.
By JOEL McNEECE
The Calhoun City Wildcats won their game on day two of the Oxford Tournament. The Wildcats knocked off Hernando 72-59.
By JOEL McNEECE
Tony Morgan, of Vardaman, officially joined the Calhoun County Board of Supervisors Thursday morning after a swearing in ceremony in Pittsboro.
By JOEL McNEECE
A Bruce man was transported by ambulance to Baptist Hospital in Oxford after a 3-car wreck on Hwy. 9W north of Banner Wednesday afternoon.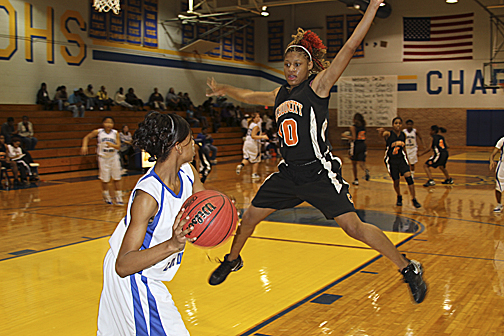 Calhoun City boys' and girls' teams both earned wins Wednesday over Ashland in the Oxford Tournament. Pictured is Lady Wildcat Yasmine Pulliam denying an inbounds pass. Pulliam scored 21 points to lead all scorers in the Lady Wildcats' 60-43 win. Photo by Joel McNeece
By JOEL McNEECE
A Bruce man was transported to North Mississippi Medical Center in Tupelo Tuesday night after being hit by a car on the Bruce Square.
By JOEL McNEECE
Calhoun City and Vardaman basketball teams are in action this week, but Bruce and Calhoun Academy won't return to the court until after New Year's.
For as long as I've lived in Calhoun County, I've lived in Bruce – Supervisor District Three, but Howard Morgan, of Vardaman has always been my supervisor.
Vera Myrtle Cleveland, 97, of Calhoun City, died December 23, 2010 at her residence. She was born July 13, 1913. She was a homemaker, member of Calhoun City First Baptist Church, Women's Missionary Union, Century Club, and Eastern Star.
Jamie Cooper Pittman, 91, of Gore Springs, died December 27, 2010 at Calhoun Health Services Nursing Home in Calhoun City. She was born December 13, 1919 in Webster County, the daughter of C.S. and Wilma Stewart Cooper. A homemaker, she was a member of Philadelphia Baptist Church, where she served on various committees and arranged flowers for church. She served as song leader many years and later sang in the choir, was a Sunday School teacher and member of WMU. She was a member of Cadaretta Home Demonstration Club and Springhill School PTA, and had been a homeroom monitor.