A large expansion of a Bruce plant, a new plant in Calhoun City, a disastrous crop year, the deployment of the 858th National Guard unit from Calhoun City, and a new county courthouse continuing to hang in limbo were some of the bigger stories of 2009.
By JOEL McNEECE
Calhoun County saw its share of highs and lows in 2009. On the positive side, United Chair in Bruce expanded by 200 jobs to become the county's largest private employer and Kidz World, a new Calhoun City plant, became the talk of its industry.

United Chair became the second largest employer in the county, behind only the county school district, in March with the expansion of nearly 200 jobs. The official announcement was held at the state capitol with Gov. Haley Barbour delivering the good news while surrounded by United Chair and Calhoun County officials.
Another industrial success for the county has been Kidz World in Calhoun City. A.D. Blount, owner/operator of Med-Lift, opened the children's furniture plant in the former Kellwood building. The plant has "exceeded all expectations" thus far adding 30 new jobs with the potential for more as the business continues to grow.
The negative story of the year was the disastrous crop harvest due to relentless rains forcing farmers to lobby for federal and state assistance that has yet to arrive.
The saddest moment, yet most prideful at the same time, was the departure of the 858th Engineer Company (Horizontal) as they began a one-year deployment in Iraq.
Approximately 160 soldiers with the company, based out of Calhoun City and Okolona, mobilized for one year in support of Operation Iraqi Freedom. For many of the soldiers, it was their second deployment to Iraq, having been with the 223rd when they were deployed in 2004.
"We all knew what we were signing up for," said 858th 1st Sgt. Joey Jones. "You do what you have to do. Our number came up. It's time for us to go serve."

A potential new courthouse for the county was in the news throughout 2009. At year's end, the project  remains in limbo as contracts are yet to be approved, much to the dismay of the board of supervisors. They remain hopeful it will be one of the success stories of 2010.
Following is a month-by-month look at some of the headlines in Calhoun County for 2009.
January
Antias Jones, 20, was killed in a car wreck on Hwy. 45 on Jan. 2. Jones was a 2007 Hall of Fame graduate of Vardaman High School.
Calhoun City Mayor J.R. Denton was the first qualifier for 2009 municipal elections.
Sister Judy Sinnwell kicks off an effort within the Calhoun City Chamber to start a recycling program for the county. Journal Publisher Joel McNeece was appointed to the Board of Directors of the Mississippi Press Association.
Calhoun County Schools suffer a $400,000 budget cut from the state as Gov. Haley Barbour cuts state funding due to lagging tax returns.
"Happy Homemakers" named Homemaker Club of Year at county awards program.
Honorees at the annual Dr. Martin Luther King Jr. Banquet include Charles Bobo, Johnny Armstrong, Sister Myra Weitl, Betty Holland, the late Leonard Holland, John Earl Armstrong, Marshall and Bernadette Coleman, and Rita Talford.
Guest speaker Dr. Vaughn Grisham and Calhoun Economic Development Association Director Terry Fales stress the importance of appearance regarding the county's economic development hopes.
Rev. Billy McCord re-elected president of the Bruce Chamber.
Vardaman Alderman A.D. Wright, a 16-year veteran with the board, died Jan. 25.
February
Supervisors approve $2 million bond issue for proposed new courthouse project.
Rev. Billy McCord re-elected president of the Calhoun County School Board.
TDS announces closing of its Calhoun City office to the public.
Jeff Dalton, an assistant coach at Marshall Academy, is hired as Calhoun Academy's next head football coach.
Vardaman High English teacher Valerie Parker is named "Teacher of the Year" for the school district.
Lt. Gov. Phil Bryant presented with the first S. Gale Denley Memorial Journalism Award by the Mississippi Press Association.
More than 60 people turn out at the courthouse in Pittsboro to meet with lawyers from the attorney general's office regarding Pinecrest Cemetery, which is expected to be placed into receivership.
Calhoun City Chamber member Doris Ferguson begins campaign to get "dangerous curve" on Hwy. 9 in front of her house addressed by MDOT.
Jim Maxwell, a federal prosecutor with Calhoun County roots, is appointed to Mississippi Court of Appeals by Gov. Haley Barbour. Maxwell is the son of BeBe Bryant Maxwell of Derma.
Judge Henry Lackey, of Calhoun City, is named chairman of Mississippi Commission on Judicial Performance.
Supervisors approve a floor plan for the new courthouse. Construction estimated to begin as early as July.
Dr. Scott Wright named "Parent of the Year" by the Calhoun County School District.
Bruce Alderman Jessey Higdon qualifies to challenge incumbent Mayor Robert Edward Oakley in the upcoming municipal election.
March
Bruce, Calhoun County officials and representatives of United Chair in Bruce hold a press conference at the State Capitol with Gov. Haley Barbour to announce the Bruce plant is expanding by 200 jobs. The expansion makes United Chair, which produces office furniture, the second largest employer in the county behind the school system.
Calhoun City high school basketball team advances to state championships in Jackson.
Bruce Chamber presents awards: Journal Publisher Joel McNeece, Citizen of the Year; Veracruz, Business of the Year; Billy McCord, Chamber Member of the Year; Denley family for Community Service.
Jim Blue re-elected president of Vardaman Chamber.
Cavalier Shoppe in Bruce announces plans to close after 42 years in business.
April
Vardaman High School names its baseball field in honor of the late Michael Long.
World Imports Limited announces plans of opening a business in the former Mid-South Marketing building in Bruce. The import furniture business is expected to employ up to 10 people.
A county ambulance was involved in a fatal accident in Chickasaw County. Ambulance driver Patema Davis and medic Don Boring suffered minor injuries in the crash.
Calhoun City Wildcats win Class 1A Powerlifting State Championship.
Strong storm uproots trees and damages roofs around the county.
The MED in Memphis inducted the late S. Gale Denley, former Journal publisher, into its Wall of Fame.
Bruce and Calhoun City alums play to a 12-12 tie in the first alumni football game between the two schools.
May
Robert Edward Oakley was re-elected mayor of Bruce over challenger Jessey Higdon.
A.D. Blount announces plans to open Kidz World, a children's furniture plant, in Calhoun City in the coming months. The plant will employ up to 30 people at startup.
M&F Bank President Tom McKelroy of Bruce dies.
858th Horizontal Construction Company, based out of Calhoun City, begins training at Camp McCain for upcoming deployment to Iraq.
Lyndsey Jones is valedictorian and Enid Poynor Salutatorian of the Calhoun Academy graduating class. Bruce valedictorian is Janae Harrelson, salutatorian Blake Peden. Calhoun City valedictorian is Kegan Coleman, salutatorian Celeste Gates. Vardaman valedictorian is Stephen Morgan, salutatorians are Josh Wells and Jonathan Graham.
T.J. Morgan, of Bruce, wins the Class 2A State Golf Championship at Forest Country Club. Jicobe Jones, of Vardaman, and Demarius Howard, of Calhoun City, win gold at the state track meet in Pearl.
Raenell Moore named next Calhoun City City Clerk, succeeding Faye Spratlin in January.
State VFW Commander Steve Sweet, of Greenville and Rev. Buford Usry, of Calhoun City, were featured speakers at the Calhoun City and Bruce Memorial Day programs.
School board approves adding principal position for Calhoun City Middle School. The school had previously fallen under the responsibilities of the high school principal.
June
Lyn Parsons wins alderman race in Bruce over Vonda Keon and Craig Tutor. Wilbur Holmes, Robert E. McGregor, Jeff Hamilton, Jeannie Winter and Jeff Clements elected aldermen in Vardaman. Larry Bratton defeats Donna Cole in only contested alderman race in Calhoun City. Richard Blaylock, Judy Tedford, David Martin, Charles Pulliam and Charles Bobo elected aldermen in Derma.
Calhoun City board raises pay for aldermen from $200 per month to $300.
State inmates removed from county jail in Pittsboro due to county's failure to provide facilities according to state regulations.
Dr. Jimmy Gage Dobbs honored as "Citizen of the Year" by the Calhoun City Chamber. Doris Ferguson presented Tom Cole Spirit Award.
Bruce Mayor Robert Edward Oakley attends meeting of North Mississippi Rail Coalition, formed to help salvage Grenada line, with hopes of reopening Skuna Valley line to Bruce.
Strong storms blew through the county, toppling trees, knocking out power to 1,500 residents and postponing Relay For Life.
Supervisors wait for USDA approval to advertise for bids on new courthouse project. USDA required to sign-off on building plan due to county utilizing $3 million loan from USDA for the project.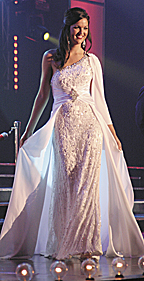 July
Paula Monaghan, Mike Ray and Stacia Parker hired as county's newest principals. Monaghan will succeed Linda White at BUES. Ray will succeed Dale Hays at CCHS. Parker will take over new CCMS job.
Queen Jordan Turner to reign over 18th Bruce Sawmill Festival.
Plans for a new Subway restaurant in Bruce are put on hold as conflicts with the city's zoning ordinance threaten the project and create disagreements between the city board and the zoning board of adjustment. Three weeks later the zoning board issues the required variance to allow the restaurant to proceed with plans.
Bruce's Bethany Pratt competes in Miss Mississippi pageant in Vicksburg.
National Guardsmen with the 858th Horizontal Engineer Company get a big send-off as they depart Calhoun City for year deployment in Iraq.
Supervisors tell all county departments budgets must remain same as last year as county coffers run low.
Mississippi Development Authority provides $95,000 grant to renovate old Kellwood building in Calhoun City for Kidz World plant.
Perry Liles hired as new head football coach at Calhoun City.
August
Supervisors receive approval from USDA to advertise courthouse project. The county is also granted a $900,000 federal grant to help with the cost.
Supervisors approve the new budget with a 3.8 mil tax increase.
Twelve-year-old Ty Long, of Vardaman, badly injured in 4-wheeler crash on Hwy. 341 south of Vardaman.
Judy Tedford is elected mayor pro-tem in Derma. Cindy Hubbard re-elected mayor pro-tem in Pittsboro.
The county's first recycling bin is set up in Pittsboro after months of work by the Green Committee led by Sister Judy Sinnwell.
Calhoun County's Relay For Life is held at the family life center at First Baptist Church in Bruce. The event had been postponed from earlier in the year due to bad weather.
Calhoun County schools open their doors for the new school year with enrollment up more than 100 around the county. Enrollment figures for each school are – Bruce 1,093; Calhoun City 875; Vardaman 686; and Calhoun Academy 177.
Secretary of State officially takes over Pinecrest Cemetery in Pittsboro. The cemetery was placed into receivership after the previous owners misused pre-paid money from customers and essentially abandoned the cemetery.
Calhoun Apparel launches new athletic brand of khakis under the name "in Steele." The company produces monogrammed apparel for athletic coaches and other officials at schools throughout the region.
MDOT announces portions of Hwy. 32 will be closed for several bridge replacements.
September
Bids opened for new Calhoun County Courthouse with low bid coming in $282,000 over budget. Sanderson Construction of Amory submitted the of $5,282,000 which was ultimately accepted.
Calhoun Health Services in Calhoun City bans all tobacco products on its property.
Bruce Board considers request from Erma Spratlin to cleanup "Cain property" on East Johnson Street. Spratlin urged the city to start with the Cain property as part of a city cleanup effort.
Former Cagni's restaurant in Calhoun City destroyed by fire.
Calhoun County Journal co-founder Maggie Ellen Denley dies.
Judge Henry Lackey, of Calhoun City, named Alumnus of the Year by Mississippi College.
October
School district hit with a $561,000 budget cut from the state. To counter the loss, the district reduced scheduled bus purchases, textbook purchases were restricted, some facility improvements were postponed, energy efficiency measures were implemented, several vacant positions were not filled, and consolidated bus routes.
Courthouse project is negotiated to get within the $5 million budget. The original bid from Sanderson Construction was $5,282,000.
The Monitor-Herald newspaper in Calhoun City announces plans to close at the end of the year.
Calhoun County Journal Publisher Joel McNeece presented Dan Phillips Leadership Award by the National Newspaper Association.
Zantarria Edwards crowned Homecoming Queen at Bruce. McKenzie Smith crowned Homecoming Queen at Vardaman. Alexis Guy is Homecoming Queen at Calhoun City. Calhoun Academy crowns Ali Norman Queen.
Vardaman Board passes a new property ordinance banning junk cars and setting other property maintenance standards.
Don Middleton, former owner of Pinecrest Cemetery in Pittsboro, is arrested by attorney general and placed in Calhoun County Jail.
Relentless rains play havoc with harvest of row crops, particularly sweet potatoes in Calhoun County.
November
Bruce Telephone Company, founded in 1927, is sold to Fail Communications of Bay Springs.
Elvis Tribute Artist Mitchell Johnson entertains at 36th Annual Sweet Potato Festival Banquet. Shirley Riley of Water Valley wins Mayor's Cup for her sweet potato praline pie.
Dr. Mike Young, of Bruce, and Henry Ross, of Eupora, are speakers at Bruce and Calhoun City Veterans' Day programs.
Vardaman Elementary and Bruce High School excel in latest state accountability ratings of Mississippi schools.
Jackson Chapel in Bruce opens new church building on 80th anniversary.
December
Lala Yancy and Faye Spratlin are grand marshals at Bruce and Calhoun City Christmas parades.
County Attorney Terry T. James dies at his Calhoun City home. He had served the county as prosecutor since 1994. Tina Scott, of Vardaman, appointed his successor.
Supervisors still awaiting approval of contracts on courthouse project.
Lt. Gov. Phil Bryant cuts ribbon at Kidz World in Calhoun City which is now employing nearly 50 people.
Cong. Travis Childers brings USDA officials from Washington, D.C. to Vardaman on crop disaster tour.
Renovation of Bruce gazebo on square begun.